Sweaters For Women: Styling Tips for Any Occasion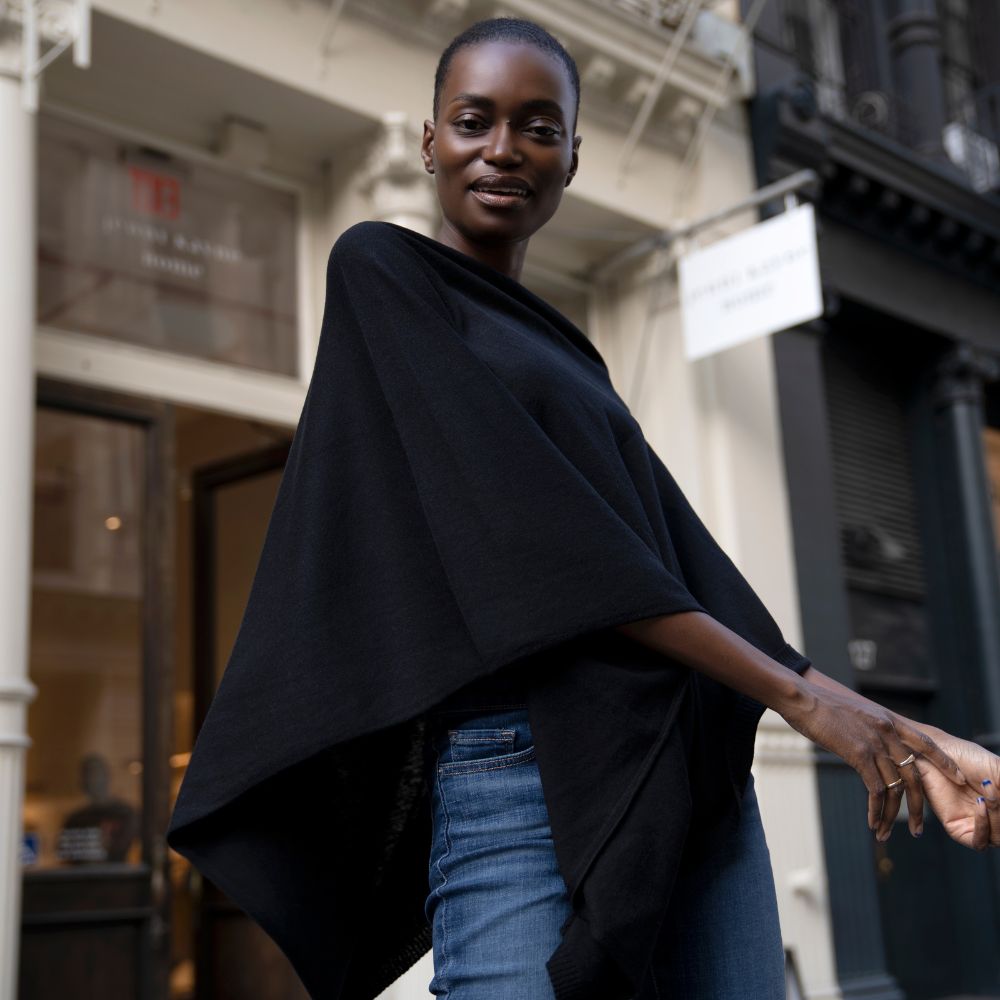 Cozy Weekends
Embrace ultimate comfort during cozy weekends by snuggling up in an oversized chunky knit sweater. Style it with leggings or joggers for a relaxed and effortless vibe. Complete the look with ankle boots or fuzzy slippers for a touch of coziness.
Office Elegance
Create a sophisticated and polished office look by layering a tailored blazer over a lightweight cashmere or wool sweater. Pair it with tailored trousers or a pencil skirt for a refined silhouette. Add a pair of pointed-toe heels and minimalistic jewelry to complete the ensemble.
Evening Glamour
Opt for a stylish and elegant look for a special evening occasion by choosing a fitted cashmere or silk-blend sweater for women with a statement neckline, such as an off-the-shoulder or deep V-neck design. Pair it with a flowing maxi skirt or tailored trousers. Add some sparkling accessories, like statement earrings or a clutch, to elevate your ensemble.
Layering Magic 
Embrace the versatility of our sweaters by layering them for added warmth and style. Wear a lightweight sweater underneath a tailored blazer or a denim jacket for a fashionable layered look. Experiment with different textures and colors to create unique and eye-catching outfits.
Outdoor Adventures 
Stay cozy and stylish during outdoor adventures by opting for a practical yet fashionable sweater. Look online sweaters for women with moisture-wicking properties and a cozy fleece lining for added warmth. Pair it with leggings or hiking pants and complete the look with sturdy boots or sneakers
What Makes Our Products Different
Softness, Smoothness, and Durability Redefined
Softness that Envelops You
When you slip into our online sweater women collection, you'll experience a level of softness that is simply unmatched. The combination of silk, cotton, and cashmere fibres creates a luxuriously smooth texture that gently caresses your skin. You'll revel in the cosy embrace of our sweaters, feeling a sense of pure indulgence every time you wear them.
Smooth as Silk, Breathable as Cotton
Our fabric blend combines the best of both worlds—silk and cotton. Silk is renowned for its smoothness, creating a delightful sensation against your skin. Its natural breathability ensures that you stay comfortable and cool, even on warmer days. Combined with cotton, our sweaters for women provide a lightweight and breathable feel that keeps you at ease throughout the day, no matter the season.
Durable Luxury, Wash after Wash
We understand the importance of durability in your wardrobe investments. That's why our fabric is designed to withstand the test of time. Our unique blend of silk, cotton, and cashmere ensures that your sweater retains its shape and quality, wash after wash. You can feel confident knowing that our sweaters are built to last, providing you with long-lasting comfort and style.
Machine Washable Convenience
We believe that convenience should never be compromised. That's why we've made sure our sweaters are machine washable, making maintenance effortless for you. Simply toss them in the washing machine, follow the care instructions, and enjoy the ease of keeping your sweaters fresh and clean. Our fabric's exceptional quality ensures that it retains its softness and integrity, even with regular machine washing.
Discover the Perfect Blend of Comfort and Elegance
At Ameliora, we understand that quality and comfort are of paramount importance when it comes to sweaters. That's why we have created a unique silk/cotton/cashmere blend that embodies the ultimate in softness, smoothness, and durability. Our sweaters are thoughtfully designed to provide you with unmatched comfort and lasting luxury. 
Whether you're braving the chill of winter or enjoying a cool summer evening, buy sweaters for women online. The natural fibers in our unique blend allow your skin to breathe, ensuring that you stay comfortable no matter the season.
Unparalleled Quality and Craftsmanship
Every online sweater for women in our collection is meticulously handcrafted to perfection. Our team of skilled artisans pays meticulous attention to detail, ensuring that each stitch is flawless and every seam is impeccably finished. We take pride in delivering the highest standards of quality, so you can enjoy your Ameliora sweater for years to come.
---