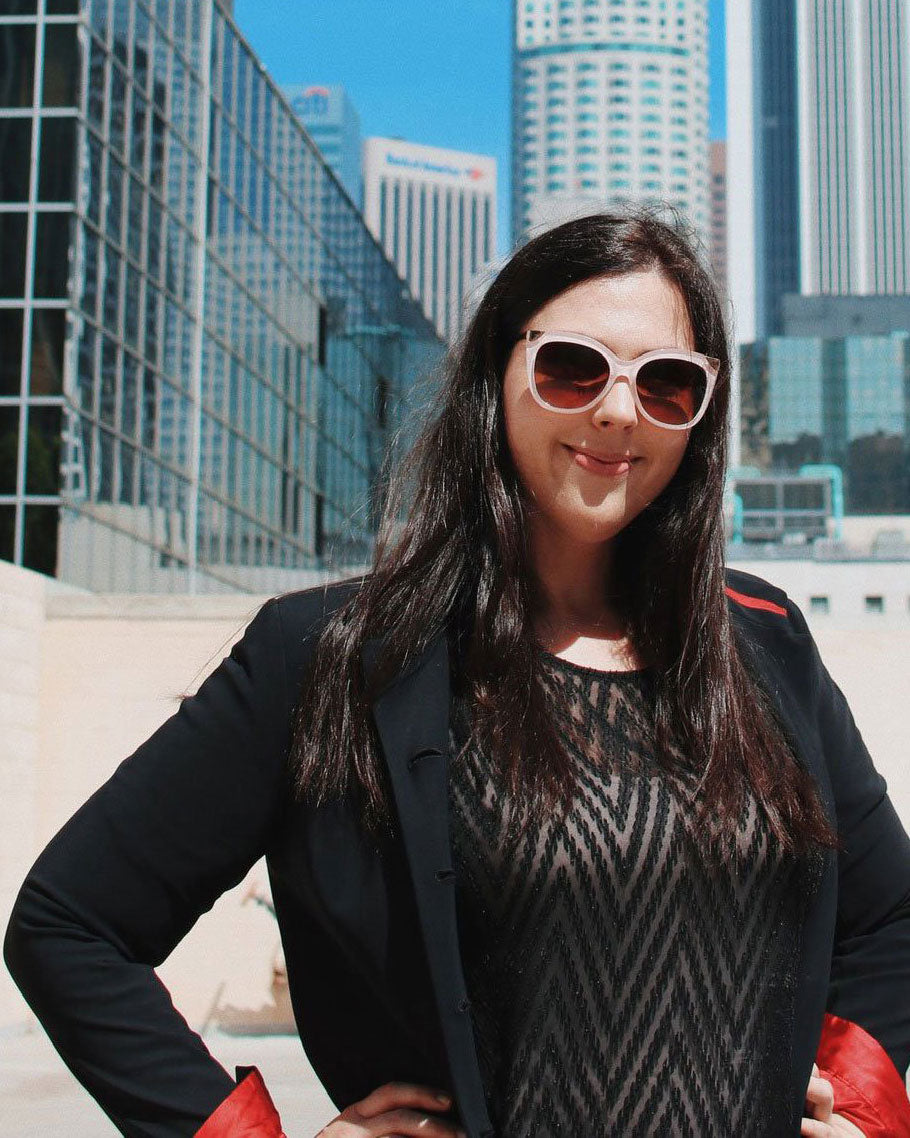 Wonder Woman
After starting a new job at Girl Scouts Los Angeles, Kelsey is ready to start the next phase of her professional journey. We were so happy to hear Kelsey's story and how she is impacting the lives of countless others and animals. We are proud to have her in Ameliora as she begins this new chapter of her professional career. Read more below about Kelsey below and be inspired by her determination to #AchieveMore. 
"Kelsey is grateful to Ameliora for helping her dress for success at her new dream job: Digital Content Specialist at Girl Scouts Los Angeles.  Prior to joining the Girl Scouts team, Kelsey worked from home (often in her pajamas!) as the Visual Content Specialist at KOTAW Content Marketing, the brand storytelling studio she created with her mom and sister (her best friends). 
Since Kelsey couldn't go to work at Girl Scouts in her pajamas, Kelsey was beyond grateful to receive the Carmen jacket from Ameliora.  She says the red lining makes her feel like she's wearing Wonder Woman's cape — and she loves that Ameliora is a woman-owned and run business that is dedicated to empowering women in the workplace.  Kelsey's mission in life is to help rescue animals; in particular, pit bull-type dogs.  She is co-creator of KOTAW Content Marketing's passion project to rebrand pit bulls as the sweet and loving dogs they are through the power of storytelling.   On the weekends, Kelsey lends her talents to The Gentle Pit, a lifestyle brand that supports animal rescue, as The Gentle Pit's Digital Marketing Specialist. 
When she's not working, Kelsey can be found snuggling with her three adopted fur babies: her pit bull Ivy, poodle LuLu and orange tabby girl Doosis." 
Are you getting back into the workforce? Are you embarking on a new professional journey? Are you making lemonade from lemons? We'd love to lend a helping hand. Please send your story to mystory@ameliora.com, and we will enter you into our monthly contest for a free Ameliora outfit. Our mission is help women achieve success, and we would be proud to be a part of your success story!
---