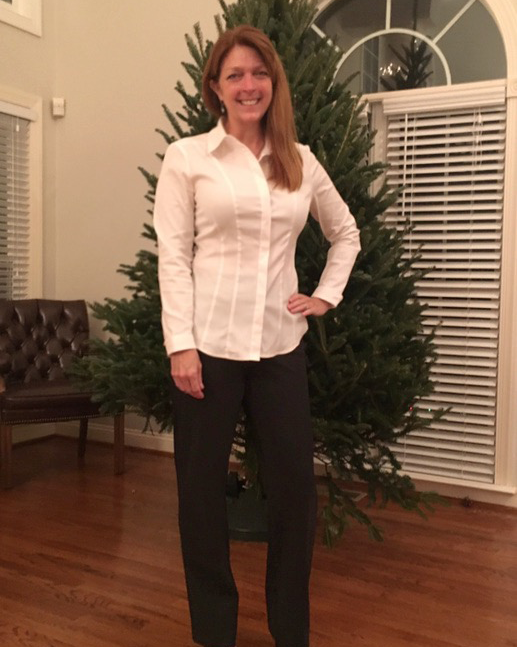 The Nurturer
Kelley Gates is an exceptional high school educator who challenges and emboldens her students to excel far beyond the limits of their own expectations. Through her accounting and computer programming courses as well as her small business financial consulting practice, Kelley arms her students with the practical skills they need to rise to their fullest potential in the workforce, while actively encouraging them to take on leadership roles within their community. We had a chance to catch up with the muse behind our Kelley pant between her busy course schedule and her volunteer work with her local animal rescue, to talk about the importance of planning ahead, and not being afraid to ask for help.
What is your personal definition of success?
Do what you love, and to give 100% in everything that you undertake. Success isn't about money or fame, it's about making a difference.
Can you tell us about a mentor figure that has played a significant role in your life? What did they teach you?
My father is the mentor that has played the most significant role in my life. He taught me that anything worth doing is doing well, to never give up, and to "measure twice, cut once," meaning to take your time to understand a situation before jumping into it.
What was your first job and what did you learn from it?
I was a cashier at Ace Hardware. There I learned that treating people kindly, and doing your best to meet customer needs is the key to succeeding in any job.
What is something you wish you had known when you were beginning your career?
I wish I had reached out to more mentors and asked for more help at the beginning of my career. I thought I could do it all, and I didn't spend enough time learning from others. Even if someone is in a different career, they have words of wisdom that can help you be more successful.
How did you know when you had found your ideal career path?

You know that you've found your ideal career path when you wake up in the morning and look forward to going to work. I worked in several different careers before becoming a teacher, and although I was successful I never felt fulfilled. Watching students learn, and wanting to make an impact in their lives, propels me to want to be the best that I can be.

What are some techniques you use to manage stress and the competing demands of your work and home life?

To manage stress, I've found that the best thing to do is get enough sleep, exercise and eat right. We tend to let all of these things go when we're stressed, but our mental and physical health is predicated on taking care of ourselves. Also, I remind myself that I should work to live instead of living to work.
What is your view on failure?
I've learned more from my failures than from my successes. Treat failure as a learning opportunity rather than something to be ashamed about.
What's the one productivity tool you couldn't live without?
Definitely my cell phone! I can check email, get reminders, and complete work on my phone if necessary. I joke that if an appointment isn't in my phone, it doesn't exist. However, I do try to take some time to "disconnect" so that it doesn't become too much of a tether.
How have you mentored/supported other women?What advice do you give other women in your field?
As a teacher, I try to mentor my students on a daily basis. I want all women to realize their potential and reach for the stars. I would tell all teachers to encourage, inspire, motivate and support the dreams of their students to give them the confidence they need to realize those dreams.
Any other thoughts or words of wisdom to share?
Never give up on your dreams. If you aren't happy in your current situation, change it. Don't be afraid to try new things. Always treat others with kindness and respect. The way you conduct yourself is your legacy.
Make it your own
Ameliora pieces were created to match. Our luxe Italian fabric and silk lining is seamless from piece to piece. So, go ahead and build your dream wardrobe.
---