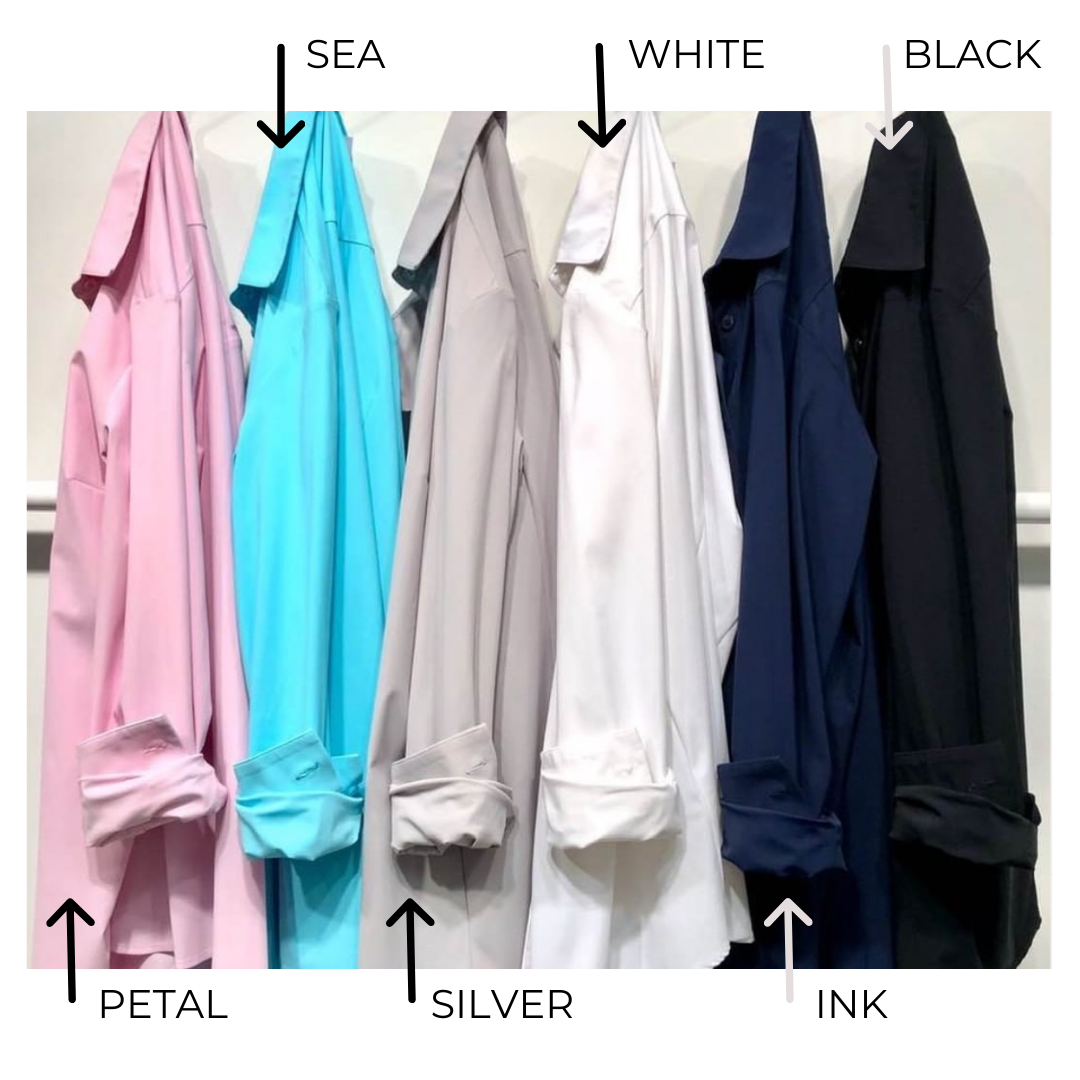 Our best selling shirt collection now comes in 6 amazing colors. Ameliora's AndareTech fabric is a 72% microfiber polyester/28% Lycra blend. Italian milled, AndareTech is machine washable, has four-way stretch, is breathable, wrinkle free, lightweight, moisture wicking, doesn't pill, doesn't fade, and dries fast.
We consulted with the experts at Canva to delve into the meanings and history of our shades. 
Petal. Petal-inspired pinks are popping up everywhere this season, and they're more wearable than ever before. Our modern take on the hue is strong and sophisticated enough for your work or casual wardrobe without compromising an ounce of softness and femininity. 
Sea. A combination of blue and a small amount of yellow, our sea shade fits in on the color scale between green and blue. It radiates the peace, calm, and tranquility of blue with the uplifting energy of yellow.
Silver. Throughout history, the color silver and its reflective nature has been interpreted as a mirror to the soul, allowing us to see ourselves in the same way as others do. Many also believe silver encourages the mind to communicate better, allowing us to articulate ourselves and speak with confidence. 
White. Throughout much of history, white has been elected as a symbol of goodness, spirituality, purity, godliness, and sacredness. Ancient Egyptian gods, Greek gods, and Roman goddesses were all depicted as clad in white to symbolize their deity.
Ink. We're big fans of Pantone's Color of the Year for 2020, Classic Blue — a shade that sits comfortably between current and timeless. The color blue has positive effects on the body and mind. It pacifies the nervous system and can bring feelings of calmness, tranquility, and deep relaxation.
Black. Black went through many shifts in meaning, application, and perception from era to era and culture to culture. Eventually, the color was revolutionized and given a prominent standing in the world of fashion, quickly becoming a symbol of elegance and simplicity.
---